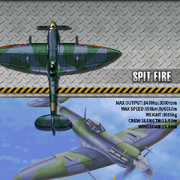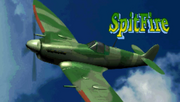 The Spitfire is an aircraft that appears as different models in Strikers 1945 (as the Mk. VII) and Strikers 1945 Plus (as the Mk. VI).
Background
Edit
The British Supermarine Spitfire is an all-purpose fighter craft that served during combat during WWII in the Royal Navy.
In Strikers 1945 PLUS, the Spitfire inherits the same weaponry that the
Mosquito
used in Strikers 1945 II. Its Subweapon is a rapid firing rocket. The Spitfire's Supershot, the Royal Napalm, can be accumulated relatively quickly, and does substantial damage. The Spitfire is an easy-to-use plane, which is a great choice for beginner players.
Sub Weapon: Heat Missile (Mk. VII), Consecutive Rocket Missile (Mk. VI)
Formation Attack: Wide Formation (Mk. VII)
Super Shot: Royal Napalm Kai (Mk. VI)
Bomb: Fire Blade (Mk. VII), Mosquito Attackers (Mk. VI)
Specifications
Edit
Max power: 1415 HP
Wingspan: 1585 cm
Length: 1153 cm
Height: 348 cm
Weight: 3085 kg
Top speed: 598 km/h (listed as 687 km/h in the console versions of Strikers 1945)
Armament: 20 mm x 2, 7.7 mm x 4
Extra Information
Edit
Pilot: Alice Herring
First Appearance: Strikers 1945
The Spitfire's shot type was changed in Strikers 1945 Plus, going from a spread type to a straight type. This is because the model used in Strikers 1945 Plus is the earlier Mk. VI variant as opposed to the original game's later Mk. VII variant.
In the Android version, this aircraft starts with its main shot at level 2 and 3 bombs, but will be locked for 2 hours starting with the moment it was selected, along with the P-51 Mustang, Messerschmitt Bf-109, Zero Fighter, and J7W Shinden.