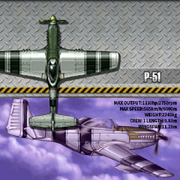 The P-51 Mustang is an aircraft that appeared in most Strikers video games. It first appears as a playable aircraft in Strikers 1945 then as a support aircraft for the P-38 Lightning in later games.
Background
Edit
The North American P-51 Mustang has both American and British origins. It was designed by Americans to a British specification, and only reaching its full potential when fitted with a British engine. It was a huge presence in the battle against the Axis powers during WWII.
Its success would later lead to the development of the F-82 Twin Mustang.
Sub weapon: Consecutive Rocket Missile
Formation attack: Shield Formation
Bomb: B-29 Backup Bombing
Specifications
Edit
Max power: 1130 HP
Wingspan: 1585 cm
Length: 983 cm
Height: 408 cm
Weight: 2743 kg
Top speed: 565 km/h (listed as 703 km/h in the console versions of Strikers 1945)
Armament: 12.7 mm x 6
Extra Information
Edit
Pilot: Tina Prize
First Appearance: Strikers 1945
The Mustang is the first aircraft in the Strikers 1945 series that was demoted from playable to support.
In the Android version, this aircraft starts with its main shot at level 2 and 3 bombs, but will be locked for 2 hours starting with the moment it was selected, along with the Spitfire Mk. VII, Messerschmitt Bf-109, Zero Fighter, and J7W Shinden.