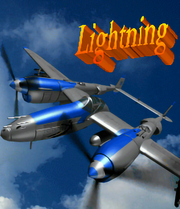 The P-38 Lightning is a recurring WWII-era fighter in the first two Strikers games, Strikers 1945 and Strikers 1945 II, as well as Strikers 1945 Plus.
It is the standard ship of the series, with balanced attacks.
Sub weapon: Homing Missile
Bomb: One-ton Bomb (Strikers 1945), Mustang Attack Formation (Strikers 1945 II and Plus)
Formation attack: Parallel Formation (Strikers 1945)
Super shot: Frame Type-II Missiles (One-ton Bomb at Level 3) (Strikers 1945 II), Justice Attack (Strikers 1945 Plus)
Specifications
Edit
Max power: 1600 HP
Wingspan: 1585 cm
Length: 1153 cm
Height: 391 cm
Weight: 7435 kg
Top speed: 666 km/h (listed as 628 km/h in the console versions of Strikers 1945)
Armament: 20 mm x 1, 12.7 mm x 4
Extra Information
Edit
Pilot: Cindy Volton
First Appearance: Strikers 1945
The P-38 Lightning is the only playable fighter aircraft that appears in all games except Strikers 1945 III.
In the Android version of Strikers 1945, this aircraft is always available at all times.
In Strikers 1945 World War, the P-38 Lightning is the player's starting aircraft.