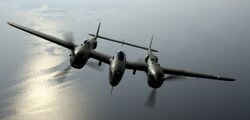 The P-38 Lighting is a recurring WWII-era fighter in the first two Strikers games, Strikers 1945 and Strikers 1945 II.
It is the standard ship of the game, with balanced attacks.
The two major weaknesses are that the bomb attack only covers where the Lightning is (huge disadvantage against the horde of bullets) and the supershot is probably the weakest supershot among the fighters.
Details :
Subweapon : Homming Missile
Bomb : P-51 Mustang Attack Formation
Supershot : Type II Missiles (Level 3 is a devastating bomb that absorb bullets) (Strikers 1945 II), Twin Tasers (Strikers 1945 Plus)
This plane is from the 1942 series .
The plane is actually referenced to Chappy's P-38 Lightning from the film Aces: Iron Eagle III.
The P-38 Lightning is the only playable fighter aircraft that appears in all games except Strikers 1945 III.
Ad blocker interference detected!
Wikia is a free-to-use site that makes money from advertising. We have a modified experience for viewers using ad blockers

Wikia is not accessible if you've made further modifications. Remove the custom ad blocker rule(s) and the page will load as expected.