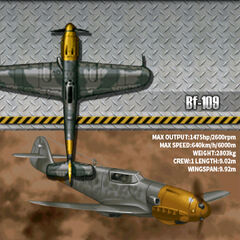 Messerschmitt Bf 109 is an aircraft that first introduced in Strikers 1945.
Background
Edit
The Messerschmitt Bf 109 was the Luftwaffe's standard single-seat fighter of World War II and was able to outfight and outrun virtually all opposition and was truly one of the most outstanding fighter airplanes of World War II. With its three 20 mm cannons and two 7.9 mm machine guns, it made for a formidable weapons platform. More than 35,000 Bf 109s were built, beginning in 1935 and remaining in production until the end of the war, making it the most numerous of any fighter aircraft built during World War II. Without question, it was the most famous of all Luftwaffe aircraft.
Sub Weapon: Automatic Gunner
Formation Attack: Drill Formation
Bomb: Stuka Swoop Bombers
This aircraft appears exclusively in the first game.
Ad blocker interference detected!
Wikia is a free-to-use site that makes money from advertising. We have a modified experience for viewers using ad blockers

Wikia is not accessible if you've made further modifications. Remove the custom ad blocker rule(s) and the page will load as expected.