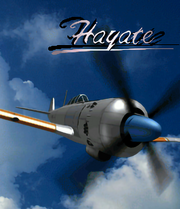 The Type-4 Fighter Ki-84 Hayate is one of the aircraft in Strikers 1945 video games. It only appeared in Strikers 1945 II as a replacement for Zero.
Background
Edit
The Nakajima Ki-84 Hayate is regarded as one of the best of the Japanese WWII fighters. It was nicknamed "Frank" by the Allies.
In Strikers 1945 Plus, the Hayate was replaced by a Zero fighter from the first game.
Also the Hayate returned in the 2017 mobile game Strikers 1945 World War.
Specifications
Edit
Max power: 1970 HP
Wingspan: 1124 cm
Length: 709 cm
Height: 338.5 cm
Weight: 2660 kg
Top speed: 680 km/h
Armament: 30 mm x 2, 20 mm x 2
In the Android version, the Ki-84 Hayate can be unlocked at the cost of 400 rubies.
In one of the single player ending illustration, it seems that the Hayate had crash-landed into the ocean.

Though, by connecting all of the single player ending illustrations into a story, it seems that the Hayate was about to land on an island.