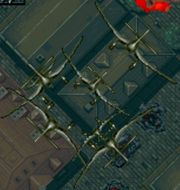 The Junkers Ju 87 Stuka is a dive bomber and ground attack aircraft that appears in Strikers 1945. They only appear as support aircraft for the Messerschmitt Bf-109.
Background
Edit
The Junkers Ju 87 or Stuka (from Sturzkampfflugzeug, "dive bomber") was a German dive bomber and ground-attack aircraft. Designed by Hermann Pohlmann, it first flew in 1935. The Ju 87 made its combat debut in 1937 with the Luftwaffe's Condor Legion during the Spanish Civil War. It served the Axis forces in World War II.
The aircraft was easily recognisable by its inverted gull wings and fixed spatted undercarriage. Upon the leading edges of its faired main gear legs were mounted the Jericho-Trompete ("Jericho trumpet") wailing sirens, becoming the propaganda symbol of German air power and the blitzkrieg victories of 1939–1942. The Stuka's design included several innovative features, including automatic pull-up dive brakes under both wings to ensure that the aircraft recovered from its attack dive even if the pilot blacked out from the high g-forces.