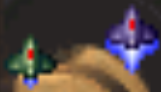 The J8M Syusui is an aircraft that appears in Strikers 1945 and Strikers 1945 II as a wingman support for all planes (Strikers 1945) and only the Ki-84 Hayate (Strikers 1945 II).
Background
Edit
The Mitsubishi J8M Shūsui was a Japanese World War II rocket-powered interceptor aircraft closely based on the German Messerschmitt Me 163 Komet. Built as a joint project for both the Navy and the Army Air Services, it was designated J8M (Navy) and Ki-200 (Army).
Formations
Edit
The Syusui can attack in multiple formations.
Sub Weapons
Edit
In the original Strikers 1945, the Syusui can also fire sub-weapons.