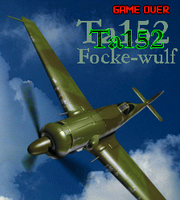 Focke-Wulf Ta152 is an aircraft that introduced in Strikers 1945 II and Strikers 1945 Plus.
Background
Edit
The German Focke-Wulf Ta152 was developed for the Luftwaffe as an answer to the Americans' high-altitude bombers, like the Boeing B-17 Superfortress.
In Strikers 1945 PLUS, the Focke-Wulf's Plasma Mine Supershot can destroy enemy bullets. Fully powering up its Subweapon, the Antitank Rockets, gives the Focke-Wulf a lot of attack power. Its Support special is a giant A9A10 rocket, which rams through enemies and absorbs all enemy fire...though it will not explode.
Ad blocker interference detected!
Wikia is a free-to-use site that makes money from advertising. We have a modified experience for viewers using ad blockers

Wikia is not accessible if you've made further modifications. Remove the custom ad blocker rule(s) and the page will load as expected.