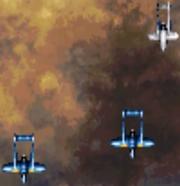 The de Havilland DH-115 Vampire is an aircraft that appears in Strikers 1945 Plus. They only appear as enemy aircraft but none of them are playable or support.
Background
Edit
The de Havilland Vampire was a British jet fighter developed and manufactured by the de Havilland Aircraft Company. Work on the aircraft began during the Second World War as a largely experimental aircraft suitable for combat that harnessed the groundbreaking innovation of jet propulsion; it was quickly decided to opt for a single-engine, twin-boom aircraft equipped with the Halford H.1 turbojet engine (later the de Havilland Goblin). Originally ordered as an experimental aircraft only, the decision to mass-produce the aircraft as an interceptor for the Royal Air Force (RAF) was finalised in May 1944.
The Vampire is one of two aircraft constructed by de Havilland, the other being the Mosquito.
Ad blocker interference detected!
Wikia is a free-to-use site that makes money from advertising. We have a modified experience for viewers using ad blockers

Wikia is not accessible if you've made further modifications. Remove the custom ad blocker rule(s) and the page will load as expected.