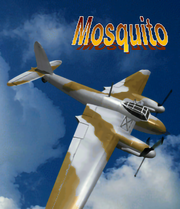 The DH.98 Mosquito is an aircraft that introduced in Strikers 1945 II.
Background
Edit
The British de Havilland DH98 Mosquito was an all-purpose fighter craft, with duties raging from fighter-bomber to photo-reconnaissance.
In Strikers 1945 II, The Mosquito is a powerful plane. Its weapons fire only forward though.
Ad blocker interference detected!
Wikia is a free-to-use site that makes money from advertising. We have a modified experience for viewers using ad blockers

Wikia is not accessible if you've made further modifications. Remove the custom ad blocker rule(s) and the page will load as expected.