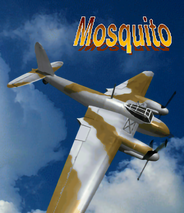 The de Havilland DH-98 Mosquito is a fighter appearing only in Strikers 1945 II.
This fighter is all about burning things. Its sub shot is napalm missiles, its charge shot is a rolling napalm missile, and its bomb involves mass carpet bombing.
In the Android version, DH-98 Mosquito can be unlocked at the cost of 400 rubies.
The Mosquito appears in Strikers 1945 Plus as a support aircraft for the Spitfire.
This is the second playable aircraft that turned as a support aircraft in the later games. The first being was the P-51 Mustang from Strikers 1945.
the Mosquito is also from the 1942 series .
Ad blocker interference detected!
Wikia is a free-to-use site that makes money from advertising. We have a modified experience for viewers using ad blockers

Wikia is not accessible if you've made further modifications. Remove the custom ad blocker rule(s) and the page will load as expected.